June 10th, 2015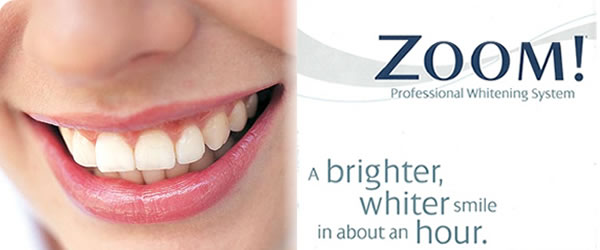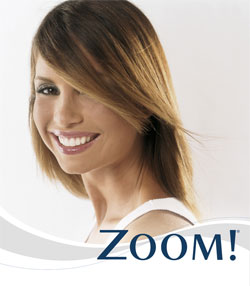 ZOOM Whitening is one of the most popular cosmetic procedures for teeth whitening. It's quick (1 hour including prep) and it's totally pain-free. Sounds pretty simple, so why doesn't everyone get it? As with all dental or medical procedures, many people like to learn about it before they try it.
FAQs about ZOOM Whitening:
Q: What is ZOOM?
A: ZOOM! is a teeth whitening process that uses a light-sensitive gel to whiten teeth.
Q: How does it work?
A: The hydrogen peroxide gel is placed on the teeth and a light is used to activate the gel. The gel then penetrates the stains on the surface of the teeth to lighten the shade, giving the patient a whiter smile.
Q: Is it safe to whiten your teeth?
A: Teeth whitening is considered to be the safest of all cosmetic dentistry procedures. A protective gel and mouthpiece are used to make sure that only your teeth are exposed to the hydrogen peroxide gel and light. The protective gel is placed over your gums and the mouthpiece protects both your tongue and your lips. It is necessary to have your teeth whitened by a professional so that all measures can be taken to ensure the best results.
Q: What kind of light does ZOOM use?
A: The light used to activate the gel emits UVA/UVB light, like the light we receive from the sun. Although this can sometimes be dangerous (as with tanning beds), this process is not dangerous as the teeth are the only part of the mouth exposed to the light. The tissue and surrounding areas of the mouth are protected and do not have the peroxide gel.
As you can imagine, it is important to have a professional perform any medical or dental procedure, as they have been specially trained to ensure the procedure is done correctly, maximizing safety. Dr. Isaac Kahen Kashani and his team here at Lasting Impressions Dental Spa have been trained in the most effective teeth whitening and cosmetic dental procedures, including ZOOM! 
Find out more and even get a free consultation and no cost ZOOM Whitening
(In the absence of periodontal disease, other conditions may apply)