Your teeth are bound to stay with you all along your life. We are blessed with a set of teeth that assist us in carrying out the routine task of biting and chewing the food that we ingest. Without teeth, our food would have to travel in solid form down to our stomach and get processed through a hard procedure. It is our teeth that save us from this perilous task by breaking down the food into tinier particles. Therefore, to lead a normal and healthy life, we must make sure that our teeth are maintained up to an optimum level, so that they can support our eating habits, as long as we live. For this, it is of utmost importance to visit a dentist in routinely cycles, so that he may determine if our teeth are in good shape and health. A general check-up of teeth can reveal suspected issues with the teeth, which can be treated in good time to save you from suffering pain and spending too much money on expensive treatments.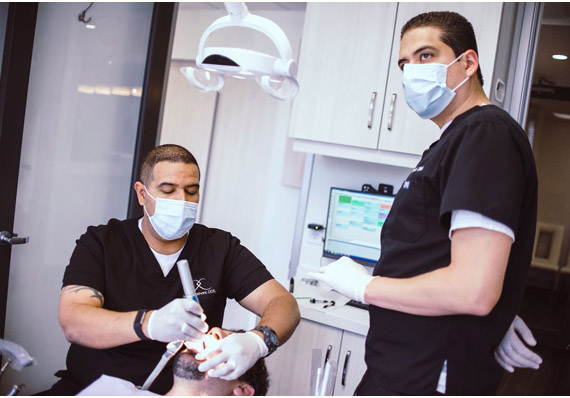 When is the right time to visit a dentist?
Ideally, you should visit your family dentist, once in every 6 months, to get your teeth examined and rule out the possibility of any issue with the teeth or any infections that could grow into mammoth tooth problems on a later date.
It is also suggested that if you ever come across as situation when your teeth start aching or you notice a visible crack in your tooth, you must pay a visit to your dentist. Dr. Kashani is a practiced and trained expert in the field of general dentistry, who can help you out with a multitude of services in the field of general dentistry and be your partner along a journey of healthy teeth and gums.
Is there a need to visit a dentist regularly?
Many people believe that if you face no issue with your teeth, you really do not need to visit a dentist at all. However, we would like to urge you to get over this myth and understand that visiting a dentist is just as important and relevant as is visiting a general physician if not more important. If you caught a cold or a fever and failed to recover from it, you would obviously consider consulting a doctor, isn't it? Then why not consult a dentist when you are facing an issue with your teeth? Your timely and regular visits to a dentist would help him in uncovering any general and specific problems with your teeth, which could become a reason to worry later. In many cases, while patients themselves do not feel anything, early signs of impending issues, such as bacterial infections and gum diseases, can be detected by a dentist by studying the state of a set of teeth and catching symptoms such as cracking teeth, cavities and more. A visit to a dentist is all about caring about your health, just as much as care about your weight and diet. It helps you lead a healthy life and smile with confidence. Your dentist will also be able to discuss your lifestyle habits with you and your eating patterns, so that he can make you aware about the care regime that is required by your teeth, as you age.
What is the scope of general dentistry services at Lasting Impressions Dental Spa?
While general dentistry commands a wide variety of services across the dental arena, you can visit Dr. Kashani and his able team for any dental related consultation, including the following:
Cleaning and removal of plaque and tartar that easily hides behind areas that are not visible. A professional dentist will easily clean them out of your teeth, which is hard to achieve by otherwise, brushing and flossing the teeth. It is recommended that you must get your teeth cleaned in this way, twice every year.
A general tooth examination allows your dentist to perform an in-depth emanation of the teeth and take an X ray as well, if needed. This would help him in examining your jaw bone and roots of the teeth, which are usually the spots where early signs of a gum disease, oral cancer or bacterial infection might manifest themselves. Conducting such an examination would give your dentist the requisite time to attend to the issue before hand and cure your teeth.
Did you know that plaque can not only form between the spaces between your teeth but also on the chewing surface of the tooth? Many of us, who haven't been blessed with a perfect set of teeth, would commonly find that the surface of our teeth is not symmetrical. This is the spot where plaque can take home as well. Using a dental sealant, your dentist will be able to fill such gaps and avoid such plaque formation.
A routine dental check-up would allow your dentist to recommend tailor made cleaning regime for you especially, which would take into consideration, your lifestyle and eating habits. Thus, you will be able to choose your tooth paste, type of toothbrush, dental floss and other dental care products accordingly.
In the case of growing teens, a routine dental check-up would be very beneficial in assessing the growth of new set of teeth and determining if they are correctly aligned. In case a treatment with braces would be required, it can be started at an early stage, without delay, which would make it easier for the teeth to take the new shape.
What technology is employed by Lasting Impressions Dental Spa to treat their patients?
When it comes to general dentistry, usually there are not a lot of tools and machines that we would like to treat you with. However, given the walk of the recent times, we feel safe and confident to assure you that at Lasting Impressions Dental Spa, we are well equipped with a host of modern tools and machines, that are made use of, by our team of experienced dentists, to treat our patients for their dental issues. Rest assured, we always work in the best interest of our patients and use the best machinery to carry out dental procedures, so that our patients can leave with assurance and satisfaction. Take a look at some of the modern machines and tools that we make use of, at Lasting Impressions Dental Spa, to make your smile wider:
Digital mold/ iTero/ CEREC : Used mainly for dental inlays, on lays, dental crowns, and veneers, the CEREC technology and machines can shrink your multiple day appointment into a single day appointment. With this advanced method we take a digital scan of the tooth, and we either send the digital mold to the lab, or we can use our in house mill to finish the tooth and deliver it the same day!
Diagnodent: This trademarked technology is the latest addition to the host of tools and machines that are assisting dentists these days, to cure dental issues in patients. Designed to diagnose a cavity at early stages, the machine helps in treating tooth decays. It consists of a laser detection system which is designed to detect signs of tooth decay, in advance. This machine helps in avoiding extensive tooth problems and costly treatments that would pain the patient on a later date. Also, given its 90% accurate detection rate, we feel confident about treating our patients with this tool.
Digital X ray and 3D Cone beam CT scan: Digital X rays are again a fantastic way to detect dental issues in advance. These include tooth decay, abnormal developments between teeth, incorrect roots, tooth cysts, Fractures in tooth fillings, tooth tumours, loss of bone and more. Due to accurate examination through these machines, it becomes possible to treat a dental issue in advance, without causing future trouble to the patient. The 3D CT scan gives us a 3D x ray of the mouth and helps us understand better your oral needs and also helps us plan surgeries better to minimize healing time.
Intraoral cameras: The intra oral camera is a device that can be used to take numerous images of the teeth and the gums from different angles. Since it is designed in the shape of a pen, it becomes easy to manoeuvre and carry. This device assists a dentist in taking a view of the teeth that is highly inaccessible to the human eye otherwise.
Laser dentistry: Believe it or not but dental treatments have become largely simplified owing to laser treatments. The scope of laser treatments is quite vast and huge. It can be used for the treatment of dental fillings, cold sores and canker sores, speeding up tooth whitening and much more.
While most of the treatments that are aided by these machines nowadays, were largely off limits for dentists until few years back, we are grateful for the inventions and technology that make it possible for us to treat our patients in a holistic manner. At Lasting Impressions Dental Spa, Dr. Kashani and his team of fellow dentists, aim to deliver the benefit of these tools and their experience, alongside a promise of satisfactory services.
Why should you choose Lasting Impressions Dental Spa for general dentistry services?
Well, we can only ask you to consider the matter of the health of your teeth and gums, before we ask you to choose us or any other clinic for availing general dentistry services. Lasting Impressions Dental Spa is a complete dental clinic, where we strive to deliver the best services in the domain of general dentistry. Our team of experts consists of Dr. Kashani, who is a seasoned specialist in the field of dentistry and a horde of other dentists, who work under the supervision of Dr. Kashani himself. The reason why we would advocate you to contact us for any dental consultation or services is that we are a replete station of services and the requisite tools that are needed to deliver the vast array of services that we promise. Not only that, we perform every task with perfection and accuracy, the evidence of which are the innumerable testimonies that we receive from our patients. We trust our scale of operations and our team, to deliver the promised results every single time. In the modern day of advancing technology and scale of services, Lasting Impressions Dental Spa has always been ahead to equip itself with the oncoming advancement in the field of general dentistry, making sure that when patient steps in at our clinic, we only let them leave with satisfaction and a great smile. So, if you wish to take an experience of our services, we gladly welcome you to our clinic in Encino, where we can help you with a vast array of general dentistry services.
Call (818) 751-5100