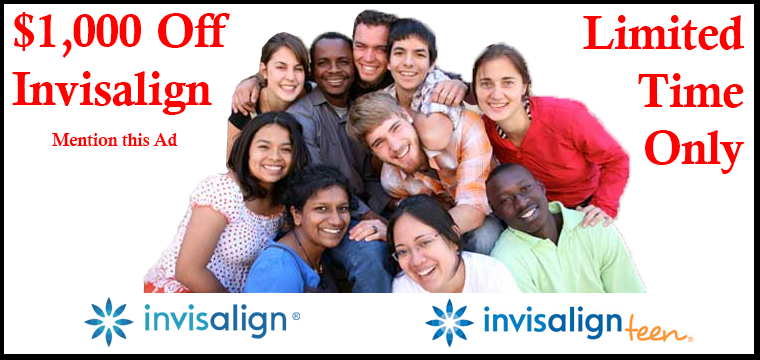 Invisalign
Everyone around us is running a league of races to appear more attractive and appealing. A part of one's appearance is also the teeth, which tend to cast a deep impact on the way one smiles and appears. Hence, there is no surprise why most people want to go for dental treatments that enhance the appearance of their teeth and look enchanting. This is why people go for treatments such as invisalign so that they can get a perfectly straightened look on their teeth. Touted as one of the popular methods to straighten out teeth, invisalign has changed the lives of millions of people all over the world with its innovative dentistry solution. Want to know more about invisalign? Read on to find out what the dentistry treatment is all about.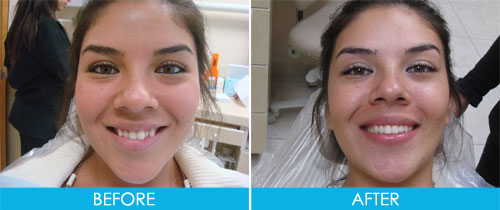 What are invisalign?
One of the first impressions of a beautiful smile are the teeth, which can literally make or break your appearance. Face the truth, crooked and misaligned teeth tend to dampen the cast of your smile and can even prohibit you from smiling as often as would have normally liked. However, owing to the discomfort that braces make people go through, most patients are often reluctant to take up the treatment at all.
At Lasting Impressions Dental Spa, a team of professional and adept dental specialists have the perfect solution to your misaligned teeth, which will make you smile without any inhibitions. Welcome to the world of invisalign, the perfect alternative to conventional braces, which helps straighten out your crooked teeth. This will not only boost your self-confidence and appearance but will also keep at bay, any dental issues which might creep up owing to the misalignment of teeth.
At Lasting Impressions Dental Spa, Dr. Isaac Kashani and his team of specialists are certified dentists in the field of providing reliable treatment with invisalign. Having ample experience in the field, our specialised team of dentists are capable of delivering quick and reliable results that last, not only on paper but also in your smile. Let us get to know more about invisalign.
Some vital facts and information about invisalign treatment
Clearly a quick and painless treatment and alternative to the normal braces, invisalign is the potential solution to common dental mis alignments such as crossbite, crowding, spacing, overbite and underbite.
As per a common study among adults in America, more than seventy percent people agree that among the first thing that they notice about people, is their smile. This is why they also feel conscious about their own appearance when they smile. More than ninety percent people have also expressed their immense satisfaction about the way their teeth appear, once they underwent a treatment of invisalign. Thus, it is crucial to understand what people are choosing presently when it comes to their teeth.
Lasting Impressions Dental Spa is a holistic and well equipped dental treatment clinic in Encino, which not only attracts the residents of the neighbourhood but also finds fame in the surrounding localities.
Video Testimonials from our own patients!!
 So, what really is invisalign?
Invisalign can be easily understood as a series of trays, which is composed of transparent and plastic aligners. These trays are used to align the teeth back in to place, one tray at a time. The process continue until the desired result is achieved. Depending on the results that the patient anticipates, such aligners are modified and customised, based on the individual's misalignment of the teeth. The invisible yet thin plastic material is usually very smooth and comfortable to wear. What's more? Invisalign aligners are easily removable, which makes them a discreet but highly effective method to treat the tooth.
The process involved
Since invisalign aligners are clear and made of plastic, there is absolutely no need for taking any teeth impression through sticky clay. With the introduction of modern technology, it is possible to take a digital scan of the teeth at Lasting Impressions Dental Spa. This will allow us to take a 3D impression of your teeth and at the same time, portray to you, through digital simulations, how the custom treatment would work out for you and what results can be expected at the end of the treatment. Until our patient is completely satisfied with the basics of the treatment at this stage, we resist from moving forward with the treatment. It is our first priority to ensure that our patients must be more than happy with our treatment. Following up on the treatment request, we also send all the necessary digital imaging and scans at your requested email address, so that you can keep a record of the initial projections of your teeth. In this report, we shall also include the stages of treatment and express the timeline until completion of the treatment as well.
As soon as we receive the Invisalign trays, we shall send you back home with a specific set of trays for your teeth. As per estimate, prior to moving on to the next tray, each tray is ideally worn for up to two weeks. The procedure continues up to the time the teeth do not achieve the desired shape. Once the treatment with the invisalign trays is over, we will provide you with retainers, which should be worn to avoid further movement of the teeth. Patients should note that invisalign aligners are completely removable, which makes it possible for them to remove them at the time of eating and sleeping. However, we recommend that every patient should ideally wear a retainer for a minimum span of 14 - 16 hours during a day for the first three months then after only at night. The innovative treatment with invisalign makes it possible for use even for teenagers, without any issue as they are completely safe and secure to use. Therefore, our patients no longer need to worry about being photographed in hideous braces and enjoy their life comfortably.
Still, why not braces?
Braces have always been the conventional method to treat misaligned and crooked teeth. However, there is no denying that a treatment with braces is highly painful and causes immense discomfort. Why to go through the pain and trouble of having permanent braces, tight wires and diet restrictions, when you can treat your misshapen teeth easily with invisalign?
Unlike braces, a patient does not need to wear tight wires or brackets with their invisalign aligners. They make the job of eating food, brushing teeth and flossing, quite normal and routinely, as against braces, which take away the comfort of each of these tasks. The set back of braces is that one needs to visit his dentist more often to tighten their wires, however, in the case of invisalign treatment, as the trays are changed by the patient, many trays can be given to a patient and therefore less visits. This requires routinely supervision of the dentist, once every few months to ensure that the treatment is moving as expected and the teeth are falling in shape with every tray vs. every 3 or 4 weeks with braces.
The bright side of having straight teeth
While some people may argue that looks and appearance are not everything in the world, Lasting Impressions Dental Spa recommends a treatment with invisalign, merely because we reckon the health aspect of straight teeth and understand how a misshapen teeth impacts the overall health of the teeth. For one, our gums are designed to fit more tightly and optimally around teeth that are properly aligned. Owing to this, our teeth are capable of warding off periodontal diseases and tooth decay. Teeth which lack proper shape, tend to trap food within tooth gaps, leading to decay and diseases. Improper bite, teeth clenching and grinding may create an unhealthy environment for the teeth and also cause pains across the jaw, neck and head. Also, tooth enamel suffers to some extent because of misalignment of the teeth.
An invisalign treatment can potentially provide the desired results in less than one year, making it a quick and reliable dental treatment. The success rate of the treatment is exponentially high, coupled with the satisfaction of patients, with repeated reviews how they are immensely happy with the results of invisalign over braces.
There is a reason why the success rate of invisalign treatments is acutely high at Lasting Impressions Dental Spa. We work with the best people in the field and make use of the latest machinery in the market, so that we can deliver accurate and satisfactory results with every single treatment. Furthermore we are on the forefront of Invisalign studies. We are constantly training with the newest techniques for Invisalign. We have been treating people with invisalign procedures for the past 10 years and so far, we have received excellent testimony and feedback with each treatment. For us, the satisfaction of our patients is paramount, which is why, we make every effort to carve out the best treatment plan and carry it out in a religious manner, to achieve the desired results. Are you tired of your misaligned teeth?
Visit Lasting Impressions Dental Spa today and seek advice from Dr. Isaac Kashani himself, who will devise the best treatment for your teeth and ensure that you leave our premises with satisfaction. Visit us today for a quick dental assessment and a before and after rendering of your own teeth in real-time!
Call (818) 751-5100